Closing the Equity Gap on Food Deserts
Planting Seeds that right wrongs that have perpetuated systemic structures of inequities in Food Desert Communities.  Our goal is to disrupt the generational legacy of disease and poor health on people who live in these communities.
The Food Desert to Beauty project centers around expansion of food access and education with the goal of participants achieving healthier outcomes. Our vision for Beauty's Community Garden is to be a model garden focused on expanding the visitor's knowledge in urban farming
and the nutritional benefits of a healthy diet. We also plan to expand our cultural and geo lens to include awareness and exposure of food origins while acknowledging food preparation and use. Our goal is to share our garden's programs and influence communities in need.
Food desert communities, like Independent Heights, where Beauty's Community Garden is located, have higher rates of
Sugar Diabetes
Do you know why?
According to Healthline writer Amber Charles Alexis, "The causes of food deserts are multifaceted. Public policy and economic practices that are embedded in systemic racism often play a role. Social, economic, and political conditions have been shown to reduce people's access to healthy foods.
Contributing factors include food insecurity, social determinants of health, racial residential segregation, and poor access to transportation among low-income and historically marginalized populations."
This Food Desert to Beauty project currently has three primary areas of support:
Enriching Beauty's Community Garden -This holistic project focuses on creating a culturally-rich educational space that supports Beauty's Commuity Garden's projects and programs.
Planting Beauty 'Seeds' - Through coordinating with other organizations on projects, we bring equity to these communities through sharing our best practices and providing programming, and volunteers.
The Green Seedling Magazine - This seasonal, quarterly fun-filled, STEAM, educational magazine created for the whole family reinforces the mission of Beauty's Community Garden, by focusing on becoming your own food source, learning about plant-based foods, and their impact on your physical and emotional wellbeing.
Enriching Beauty's Community Garden
What better place to start creating the experience we imagine for our community, than right here at Beauty's Community Garden.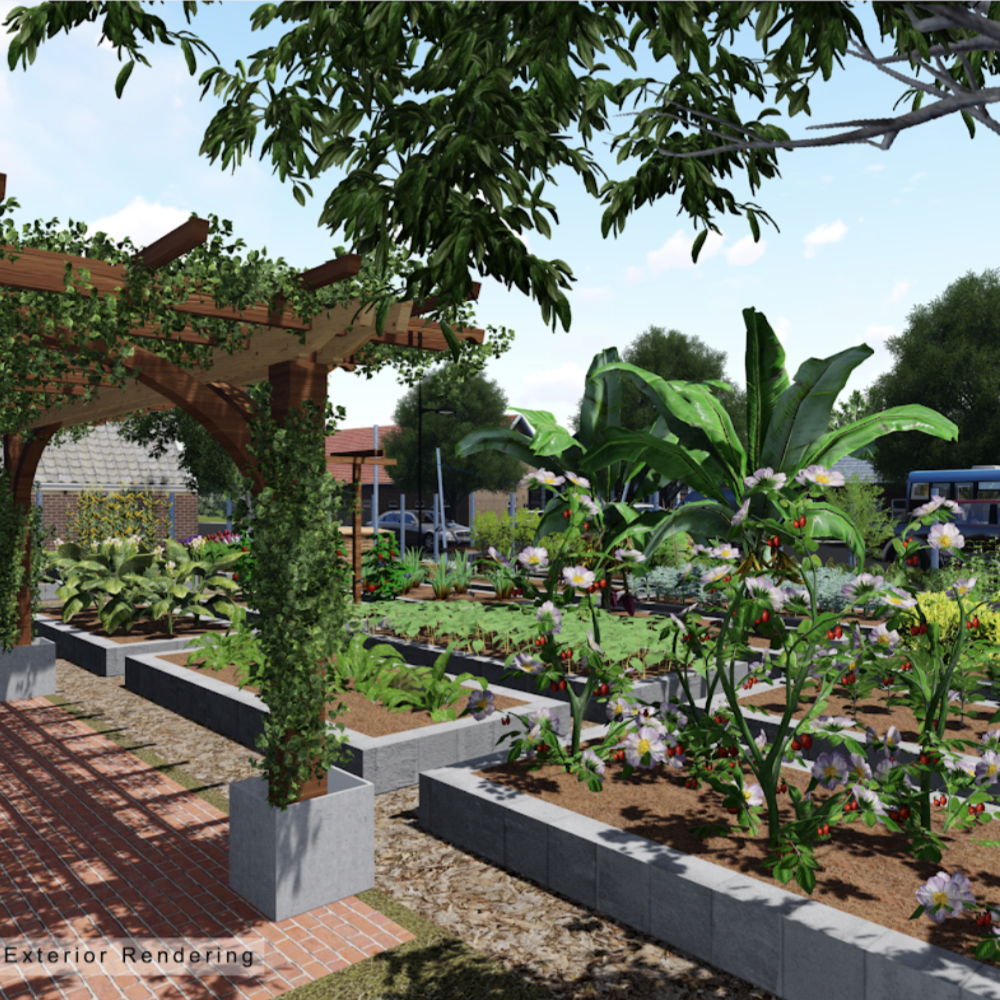 Our Garden Vision
It's not just a Vision
It's More like an Expanded Life Experience
Since 2012, Beauty's Community Garden has been an exemplary model of community revitalization and growth within the Independence Heights community–the first African American Municipality in Texas, and one of forty food deserts in Houston, Texas. Communities like Independent Height, have limited access to a supermarket with fresh produce. Residents eat predominately at fast food restaurants and convenience stores, and consume a diet high in processed foods, salt, fat, and sugar. This results in higher rates of Heart Disease, Diabetes, High Blood Pressure, and Obesity.
Since its establishment in 2012, Beauty's Community Garden has conducted its hands-on educational demonstrations and programs for gardening, healthy cooking, nutrition, and community events on-site. The garden is outlined by a chain link fence, located on a lot in a residential neighboorhood, spanning 6,000 sq.ft. with a 20ft. shipping container (donated by Texas A&M's mentorship program) currently being used for storage.
The garden's original focus revolved around crop production for the community then evolved quickly into a teaching garden. We are currently in a campaign to level up the garden's ability to 1) support our revolving garden production, 2) expand facilities to provide basic comforts and amenities, and 3) Create a curb appeal reflecting a gathering space that is a beautiful and inviting space reflecting a proud neighboorhood.
To meet this challenge, Beauty's Community Garden has identified 15 Opportunity Empowerment Zones in the garden that will support our vision of a space providing a holistic and culturally-rich educational experience.
Our Garden Projects are divides into 15 Opportunity Empowerment Zones:
Outdoor Classroom Section: An interactive and engaging outdoor garden education space. This extended outdoor Garden space has a covered patio that serves as our communal gathering space, and an educational work shop space that supports our special events: program demos, brunches, lectures, and film screenings.
Retrofit & Build-out of 20ft. Shipping Container (onsite)--donated by A&M mentorship program): Currently used for our main storage space and a backdrop to the patio space.

A retrofit and building-out of the 20ft. container to provide extended or alternative sheltered space for programs and office space with an enclosed restroom

Blackberry Climbing Trellis: The blackberry trellis project was designed to provide a permanent structure to support our blackberry bushes for better harvesting. This trellis allow garden visitors, of all ages, to participate in picking blackberries while providing educational opportunities for pruning classes.
Blueberry's Living Classroom: We're unveiling the mystery behind growing the nutrient-rich blueberry, making it more accessible and less costly. We will provide our blueberry beds as an educational opportunity and living classroom for community members to grow their own. We intend to teach regular blueberry growing classes- including cultivating, pruning,  and harvesting methods.
Compost Section: Composting our own organic waste at the garden is the most crucial aspect to keeping our garden bed soils healthy and biologically active. We currently have three sections for plant material collection. Our goal is to add a mesh sifter into our process to obtain higher quality compost.
Herb's Garden Spots: Growing herbs has been a consistent success story at Beauty's Garden. With medicinal, culinary, and aromatic uses, we are eager to find more ways to help our community incorporate herbs into their everyday lives. We have built the foundation of the beds and are ready to install the surrounding structures.
Planting Beauty's 'Seeds'
We're joining hands with other organizations to support other food desert communities.
Support other Food Desert Communities
We've joined forces with Prairie View A&M University and UTHealth on a two-year (September 1, 2021 through August 31, 2023) project supporting the Acres Homes Community. Like Independent Heights, where Beauty's Community Garden resides, Acres Homes is one of 40+ food desert communities throughout the greater Houston area. In this project we're providing support with creating, improving and maintaining eight community gardens throughout the Acres Homes community.
Throughout the span of this 2-year project, all gardens participate in a 6-8 week agricultural course led by Prairie View A&M University. One quarterly class per each 6 to 8 week session will be taught by a Beauty's Community Garden instructor.
You can be a Volunteer on this project
If you have a green thumb, or just want to grow one :), we would love you to join our team as we create, improve, and maintain these gardens through August 31 2023. Complete our Main Contact page and request in the Notes you want to be added to the Planting Beauty 'Seed" Volunteer project.
The Green Seedling Magazine
More than giving food that feeds you for a day, the Green Seedling Magazine by focusing on becoming your own food source, learning about plant-based foods, and their impact on your physical and emotional wellbeing.
Green Seedling Magazine - A quarterly fun-filled, STEAM educational magazine for the whole family. Readers learn to become their own food source, while experiencing the feel-good advantages of a diet filled with plant-based foods.
This magazine was developed for the Acres Homes Community between Beauty's Community Garden, their Community Development Partner, PEACE through PIE, and Leslie Mattison, the editor and designer on content and illustrations. This project is part of a larger grant involving Prairie View A&M University and UTHealth.
Be one of the first to gain digital access to each quarterly magazine by completing our Green Seedling Insider form.  If you are ages 8-13, be a Green Seedling Code Hacker.
This magazine is free and was developed for the whole family.  Its primary audience is ages 8-13 (elementary & middle school). Content supports the Houston weather zone.
Printed copies are only distributed throughout the Acres Homes community. Anyone throughout the US, can receive a free digital copy of the magazine by filling out our Green Seedling Insider form on this page.
We are seeking Content Contributors and Advisors for our Green Seedling publication. Areas of interest are Nutrition, Urban Gardening, Cooking Healthy, Body Health, Ages 8-13 Curriculum Development and Gamification. If you'd like more information, complete the Green Seedling Insider form with your interest.
Each quarterly magazine has activities and puzzles for youth ages 8-13. Youth within that age range throughout the U.S. can be a Green Seedling Code Hacker. GS Code Hackers can post their answers to the puzzles. A unique link is provided in each magazine. 
All who participate will receive a Green Seedling Code Hacker sticker via email. The top score winners will receive a Hybrid Winner sticker. Only those youth who live in Acres Homes will be eligible to participate in a grocery store gift card drawing based on their age group (8yrs-10yrs and 11yrs-13yrs). One winner will be chosen from each age group per quarter and will be contacted by the magazine's announcement date.