Year-Round Program      
          Sponsorships
Help us Make a Root Level Difference in a Life!
Be a Year-Round PROGRAM Sponsor

What better place to start creating the experience, and the root level impact we all imagine, then through Beauty's Community Garden year round Garden and Cooking Healthy Programs.
As a Year-Round PROGRAM, Sponsor you breath life into the organization in a sustainable way. This kind of sponsorship provides security to the staff, our programs and the families and community we serve. Your support assuring everyone we can continue to bring quality programming our community members depend on.
Please look over the sponsorship categories. The form below allows you to choose your commitment level. 
The information we collect about you and your business helps us accurately market your support. 
Year-Round PROGRAM Sponsorship Opportunities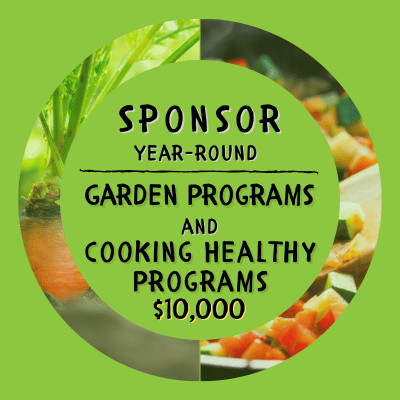 Being a year-round PROGRAM Sponsor comes with benefits!
For your Year-Round PROGRAM Sponsorship support you'll receive...
Advertising

Your business will receive space to advertise your support and business through our year-round programs and event, online and through ad placement through printed material passed out at each program.

Recognition

Your business will receive recognition on Beauty's Community Garden's Website, social media and marketing materials promoting each program. 
Banner at the Garden

Your logo and/or business name will be represented on a banner and/or signage, at each program. This is year-round opportunity to promote your business as the Sponsor making the program possible.

Exposure

Your logo and name and bio marketed on program RSVP page sent out through the Eventbrite platform, Facebook, IG, Twitter., as well a our blast email through our MailChimp mailing list.
Interest Form 
Below is the year-round-PROGRAM Sponsor's Interest Form.  the information you provide helps us accurately market your business. 
"*" indicates required fields