Heart Healthy Holiday Tamales with Chef Huerta
December 16 @ 10:00 AM

-

11:00 AM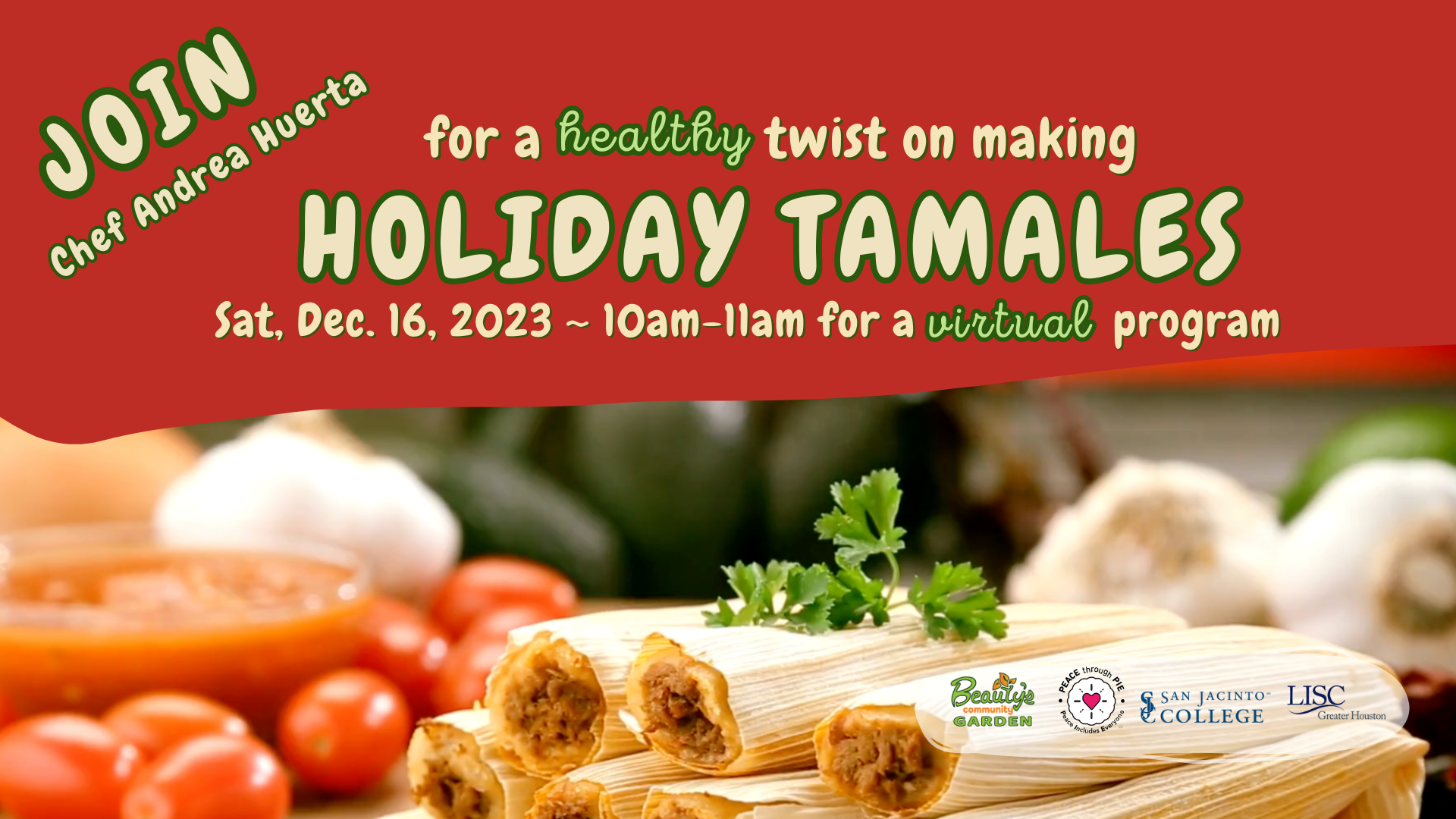 Heart Healthy Holiday Tamales with
Chef Huerta
Chef Andrea Huerta will have us making heart-healthy tamales this holiday season!
Holiday Tamales with Chef Huerta. Join our Virtual Kitchen Event!
Cancellation Procedure: Your mobile number will be collected (and will only be used) in case there is an urgent message. This is usually used in case we need to cancel or reschedule the event, usually due to unexpected, problematic weather conditions. All other communications will be sent via email. Note we do not sell or share your information with any other organization and/or business. We do collect certain information to gauge participation and the demographics of attendees.
This "Heart Healthy Holiday Tamales,"  we will explore how to create flavorful fillings and show the tamale making process-step-by-step. Chef will provide tips on how to prepare the masa, assemble the tamales, and cook them to perfection. Learn how to prepare and cook in a healthy way so you maximize the nutritional benefits. Chef Huerta will demonstrate how to make this seasonal favorite.
* Recipes for reduced salt and fat content will be provided.
This is a great heart healthy idea for preparing tamales this holiday season.
You will leave with learning:
flavor profiles of tamale fillings.
how to prepare the masa.
to assemble the tamales.
to steam tamales and check for doneness.
——————————————————————————-

Chef Andrea Huerta, Program Director San Jacinto College.
Chef Andrea Huerta is the Program Director for San Jacinto College North Campus and a Certified Executive Pastry Chef. She has spent her entire career in the city with the best-tasting food anywhere, Houston, TX! She fell in love with teaching 8 years ago and teaches pastry and culinary arts classes full-time.
San Jacinto College Culinary Arts Program –https://sanjac.edu/programs/areas-of-study/public-services/culinary-arts/
San Jacinto College has three programs of study, culinary arts, pastry arts, and restaurant management.
See the website for more details and program requirements.

5800 Uvalde Road
Houston, Texas 77049
United States

Related Events